Published: 11 October 2018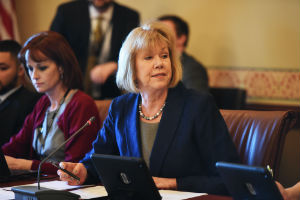 DEERFIELD – State Senator Julie Morrison (D-Deerfield) is joining regional officials in hosting a public meeting to discuss some of the potential environmental impacts of the proposed Foxconn Technology Company Plant in Racine.
The event is scheduled for Wednesday, Oct. 24 at 6:30 p.m. at the Heritage Park Center, located at 100 Community Boulevard in Wheeling.
"Business development and regional job creation is important, but also requires a keen eye towards environmental protection," Morrison said. "Lake and Cook County residents deserve to have all the information available and should know that the environmental impact of the Foxconn development won't end at the Wisconsin border."
In their effort to establish a U.S. manufacturing presence, Taiwan-based Foxconn Technology chose Racine County, Wisconsin to locate and build their large plan. Last year, the incentive package the Wisconsin General Assembly gave to the company included the ability to discharge dredged materials and fill natural wetlands without a permit.
Because the Foxconn site is located in the headwaters of the Des Plaines River Watershed, several Lake and Cook County leaders, county, state and federal officials have grown concerned that runoff from the site could contaminate or destroy Illinois wetland areas and regional water quality.
In August, the Lake County Stormwater Management Commission approved an engineering study to review potential flooding impacts Lake County could see from the pending development. The public meeting will include an update on the study. While the scope of the Burke Engineering study is limited to Lake County, it is expected that information gained will be beneficial for residents and community leaders in Cook County as well.
"What's at stake is the quality of life and safety of our region and we're encouraging residents to attend this event because it's such a critical issue," Morrison said. "Protecting the environment, our communities and families in Lake County is crucial. This event aims to give the public the information they need to identify areas of concern."
Category: News