Published: 12 November 2020
DEERFIELD – As a steadfast advocate of helping underserved children, State Senator Julie Morrison (D-Lake Forest) is excited to congratulate the Lake County Children's Advocacy Center on achieving re-accreditation from the National Children's Alliance.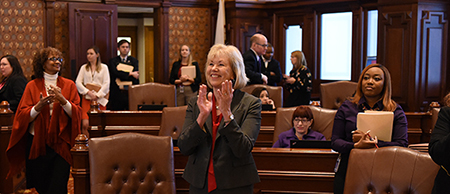 The Lake County Children's Advocacy Center is a safe, child-focused environment where a child visits after police or the Department of Children and Family Services believes the child is being abused. The child tells their story to the trained interviewer, who then works with a team to help the child.
"The Lake County Children's Advocacy Center serves as a guardian angel and an extra set of eyes the most at-risk children in our communities," Morrison said. "This re-accreditation is a tremendous and well-deserved honor that will allow it to continue to bring great services to our community."
Receiving accreditation guarantees the advocacy center is providing the most consistent and evidence-based interventions to the children served. Additionally, it shows the advocacy center is at the forefront of best practices to help children who are abused and mistreated.
To become accredited, the Lake County Children's Advocacy Center had to meet a number of standards including, but not limited to, victim support and advocacy, child focused settings, mental health services, and multi-disciplinary team representation. The Lake County-based group is the second largest performing children's advocacy center in Illinois and has become a pilot location for other advocacy centers in the state.
"[We acknowledge] the extensive work the center and team has completed to demonstrate through both written documentation and observed practice that the CAC is in compliance with national accreditation standards," the National Children's Alliance said in its re-accreditation letter. "The standards and their accompanying criteria ensure that children and families in your community receive effective, efficient, relevant and compassionate services."
Due to its accreditation, the center received $367,000 to help families across the county. Services include a juvenile advocate, two on-site mental health providers, and additional staff from the state's attorney's office. The Department of Children and Family Services is on site to participate in the Forensic Interview process, as well.
Category: Features