Created: 26 August 2014
Published: 26 August 2014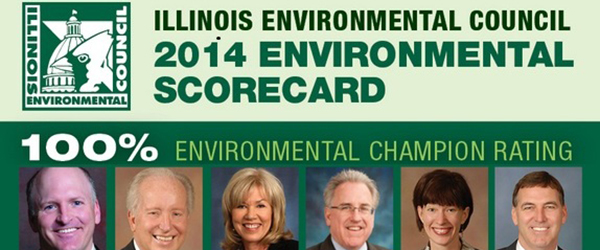 SPRINGFIELD – Every year, the Illinois Environmental Council – a 39-year-old organization that serves as the environmental community's voice before the Illinois state legislature – honors a select group of legislators who have taken firm steps to protect the environment. This year, state Senator Julie Morrison (D-Deerfield) is one of the honorees.
"I want to thank the Illinois Environmental Council for all of the good work it does," Morrison said. "I know how important protecting the environment is to members of the communities I represent, and I hope to do even more in the future."
In order to qualify as an Environmental Champion, legislators had to vote in support of eight pieces of legislation. Bills on the council's 2014 Environmental Scorecard include:
- New rules for farmers markets to support local farmers and local food (HB 5657)
- An authorization for the procurement of up to $30 million in solar power by the Illinois Power Agency (HB 2427)
- New protections for cougars, bears and wolves (SB 3049)
- A ban on microbeads in personal care products to protect the Great Lakes – the first such ban in the world (SB 2727)
- A study on urban flooding by the Illinois Department of Natural Resources (SB 2966)
- An expansion of the clean water initiative to fund loans for green stormwater infrastructure and pollution prevention projects (SB 2780)
Morrison sponsored one of the laws on the Environmental Scorecard (HB 4227). It makes electronics recycling easier.
"Senator Julie Morrison voted 100% of the time with the environmental community on ten pieces of key legislation," said Illinois Environmental Council Executive Director Jen Walling. "The IEC is honored by Julie Morrison's dedication to Illinois' environment and we look forward to working together in the future."
Category: Features