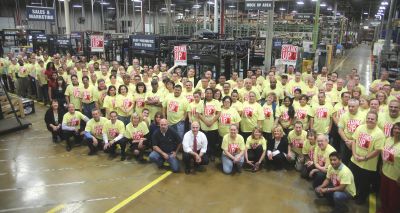 On April 9, Senator Morrison joined Vapor Bus International in Buffalo Grove as they participated in National Transportation Infrastructure Day. The company is a leader in the design and manufacture of passenger door equipment for buses, intercity and tour coaches and commercial vehicles. "Stand Up for Transportation Day" was meant to raise awareness that federal public transit and highway construction funding is at risk unless the U.S. Congress passes a new law before the existing one expires on May 31.
Morrison had the opportunity to speak with employees and take a tour of the facility. She was very impressed with Vapor Bus International's dedication to the community. For example, it partners with the local school district's STEM program to give students an opportunity to intern and experience manufacturing.
"Illinois must continue to safeguard our roads and bridges, and I hope the U.S. congress will also continue to invest in the nation's vitally important transportation infrastructure," Morrison said.
Category: Latest News