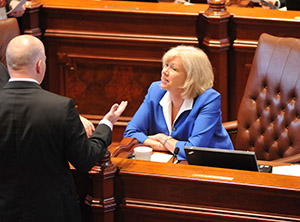 SPRINGFIELD – State Senator Julie Morrison (D-Deerfield) and State Representative Sara Feigenholtz (D-Chicago) want to end a disturbing trend: parents turning their children over to the Department of Children and Family Services because it is the only way the kids can get the mental health care they need.
"DCFS exists to help children who are the victims of abuse and neglect. It's common knowledge that the agency is underfunded and struggles to meet its obligations," said Morrison, who is working with the agency to try to help improve performance. "The fact that there are parents who are so desperate to get their children mental health services that they will surrender them to DCFS is a real black mark on our state. This situation needs to change."
Morrison and Feigenholtz are sponsoring a plan that would give exhausted parents the ability to get state assistance without giving up their children to the foster care system.
Category: Latest News