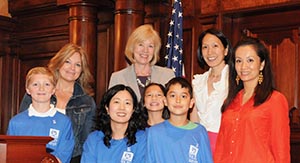 Last week, students from across the state traveled to Springfield to demonstrate their use of technology in the classroom during Tech Day 2014.
I was fortunate enough to visit with fourth grade students, parents and faculty from Everett Elementary School in Lake Forest, led by Technology Instructor Ms. Oh.
It was such an honor meeting everyone and I hope to make a visit to Everett very soon!
Ms. Oh was gracious enough to send the below video to me after their visit to the Capitol:
Category: Latest News