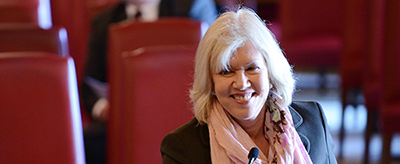 SPRINGFIELD – In an effort to make Illinois' local governments more accountable, State Senator Julie Morrison (D-Deerfield) is sponsoring legislation that would enable county boards to remove appointed officials who violate the public trust.
"If an appointed member of the Metra Board or any other important local board or commission can't meet ethical standards, there needs to be a way to remove that person," Morrison said.
Morrison's legislation, introduced at the request of Lake County Board Chairman Aaron Lawlor, allows the county boards of the collar counties to remove appointed officials by a 2/3rds majority vote. To initiate the process, the county board or county executive would have to find that the appointed official violated the county's code of conduct, and the county board would have to hold a hearing.
Category: Latest News