Published: Wednesday, November 13, 2019 08:39 AM
SPRINGFIELD – In an effort to provide more transparency among elected officials, State Senator Julie Morrison (D-Deerfield) filed a measure that would require lawmakers to state if they have a conflict of interest on a bill.
"This is simply about honesty and transparency," Senator Morrison said. "The people of Illinois deserve to know lawmakers are best serving voters and the community — not themselves."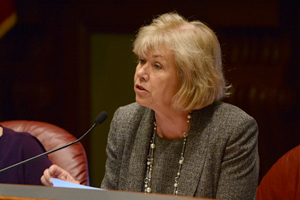 Senate Bill 2299, which was read into the record Tuesday, would require a member of the General Assembly to disclose if they have a conflict of interest on a measure they are taking official action on – which includes voting for a bill. If the legislator does have a conflict of interest, they would be responsible for filing a written statement declaring the conflict or stating their conflict during floor debate.
"It is more important than ever for us to strive for more transparency, greater disclosure and a higher standard of conduct," Senator Morrison said. "This common sense legislation will call for lawmakers to work in the best interest of the people of Illinois by reporting if they have a conflict of interest on a legislative matter they are voting on."
Category: Uncategorised