Published: Wednesday, June 24, 2020 09:58 AM
DEERFIELD — Thanks to efforts from State Senator Julie Morrison (D-Lake Forest), people interested in voting from home this November are now able to apply for a ballot online.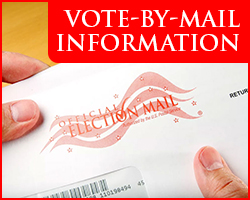 "Making it easier for people to vote from the comfort of their homes allows them to exercise their rights while keeping them safe from COVID-19," Morrison said. "Many people look forward to voting, and they can now apply for vote-by-mail ballots as soon as they'd like."
As a part of Morrison's vote by mail expansion measure — found in Senate Bill 1863, which was signed by the governor last week — people who are registered to vote and want to request a vote-by-mail ballot may now do so by visiting their individual election authority's website.
For Lake County, people should visit lakecountyil.gov/4321/Voting-by-Mail.
For Cook County, people should visit mailvoting.cookcountyclerkil.gov/.
Those who are not yet registered to vote may do so by visiting the Illinois State Board of Elections website here, and they will be able to request a vote-by-mail ballot while applying.
While people are now able to apply for a ballot on their own, any person who has voted in the past two years —in the 2018 General Election, 2019 Consolidated Election or 2020 Primary Election — will automatically receive an application for a vote-by-mail ballot in their mailbox for the 2020 General Election under Morrison's measure.
People who registered to vote after the 2020 Primary Election will also receive an application.
Election authorities are expected to mail out applications no later than Aug. 1, so people can expect their applications in early August. They can also expect to receive periodic reminders from the secretary of state's office to submit their application.
"I encourage people to take advantage of the state's comprehensive vote-by-mail program," Morrison said. "This is a great way to be able to take time to fill out your ballot while keeping yourself and others safe and healthy."
Category: Uncategorised