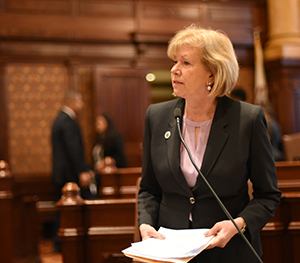 SPRINGFIELD – State Senator Julie Morrison (D-Deerfield) passed an updated 'Red Flag' proposal out of the Senate today that would empower concerned family members or law enforcement officers to take action when a loved one with access to a firearm is exhibiting dangerous or threatening behavior.
"In far too many mass shooting events, family members identified disturbing behavior in their loved ones and didn't know where to turn," Morrison said. "In some cases, when this behavior was reported, there was no legal mechanism to step in and prevent potential tragedy."
Morrison's legislation, contained in House Bill 2354, would create the Firearms Restraining Order Act, allowing a family member or law enforcement official to alert the court system when an individual with access to a firearm is displaying threatening or unsafe behavior that could lead to injury to themselves or to the general public.
Category: Latest News