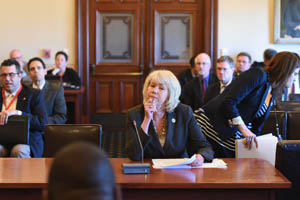 SPRINGFIELD – Tragic events around the country continue to highlight what happens when firearms get in the wrong hands.
In an effort to reduce access to firearms by individuals suffering from mental illness, State Senator Julie Morrison (D – Deerfield) introduced a plan earlier this year that was signed today by the governor.
"We are suffering from an epidemic of gun violence in this country," Morrison said. "Every day, we hear of more death and suffering because individuals who shouldn't have easy access to guns have no problem obtaining firearms."
Current Illinois law requires circuit court clerks to relay information to the Illinois State Police when a person passes through the court system and is deemed to have a mental disability or is involuntarily committed to a mental institution. The information is used to ensure FOID cards, which are required to legally own a firearm in Illinois, are not administered.
Category: Latest News