Published: 14 August 2017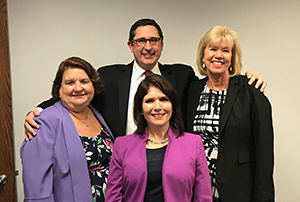 SPRINGFIELD – Two proposals championed by State Senator Julie Morrison (D – Deerfield) that would eliminate restrictions on township consolidation efforts were signed into law today by the governor.
"Illinois has the unfortunate distinction of having the most units of local government of any state in the country," Morrison said. "With the signing of these new laws, we are acknowledging that local government best operates when given the flexibility to increase efficiencies to taxpayers."
Both new laws, contained in Senate Bill 3 and House Bill 607, seek to ensure local government consolidation efforts are not stymied by outdated state restrictions.
Senate Bill 3 expands the ability of townships to consolidate and create greater efficiencies for taxpayers. The plan allows adjacent townships to merge, removes the current cap on township size and allows voters to approve the dissolution of townships that are coterminous with a municipality.
House Bill 607 would allow every county in Illinois to place a referendum on the ballot asking voters whether a township road district should be abolished and the responsibilities of maintaining roadways transferred to the township. Current law only allows townships located in Cook County to place a referendum on the ballot.
In many North Suburban townships, municipal growth has led to annexing formerly unincorporated land, leaving many township road districts with very little responsibility while still maintaining their status as a taxing district.
"I am proud of the hard work in both the House and Senate coming together and passing these common sense reforms," Morrison said. "Much work remains, however, to ensure government in Illinois operates as efficiently as they can for taxpayers."
Both proposals were signed into law this afternoon at a ceremony at the DuPage Mayors and Managers Building in Oak Brook.
Category: Latest News