Published: 14 September 2017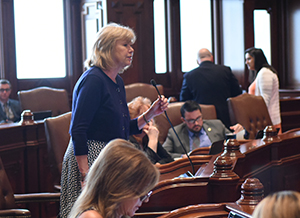 SPRINGFIELD – Firearms would be prohibited on church grounds in Illinois under a plan introduced yesterday by State Senator Julie Morrison (D – Deerfield).
"While Illinois law is very specific in where concealed firearms are prohibited, the law does not include churches or other places of worship," Morrison said. "Most constituents I have talked with are shocked when they hear churches are not included on this list. Common sense dictates that guns have no purpose in places of worship."
Under Morrison's plan contained in Senate Bill 2231, concealed firearms would be prohibited on church property, including synagogues, temples, mosques or other places of worship.
Currently, the Illinois Firearm Concealed Carry Act prohibits concealed firearms in 23 locations, including in schools, child care facilities and court rooms. Senate Bill 2231 would expand this list to include places of worship.
Earlier this week, the Archdiocese of Chicago announced firearms would be banned on all archdiocese property.
"This policy is rooted in the belief that our churches, schools, administrative facilities or any other facilities owned, leased or operated by the Archdiocese are intended to be sites where people come to gather, pray and worship in safety and peace," Cardinal Blaise Cupich said in a letter to parishes.
Senator Morrison hopes to advance Senate Bill 2231 to a Senate committee during veto session, which begins on October 24.
"This plan would only strengthen our commitment to protect Illinoisans against the threat of senseless gun violence in our communities," Morrison said.
Category: Latest News