Published: 30 January 2018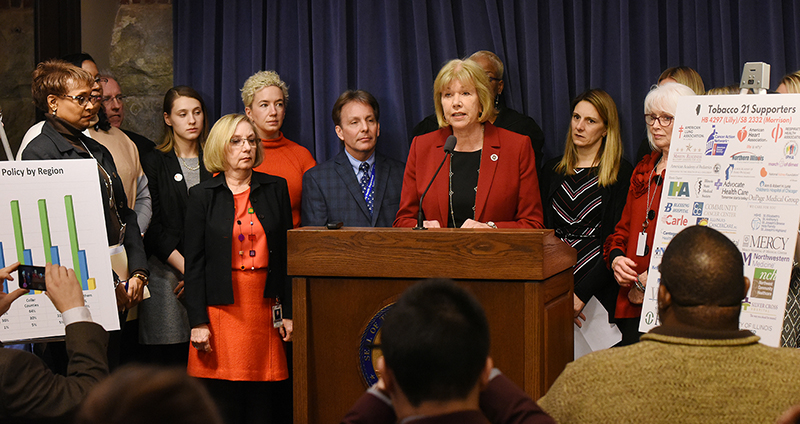 SPRINGFIELD – For the first time in years, overall tobacco use rates in teens is rising, thanks in part to increased use of e-cigarettes.
To prevent teens from ever starting to use tobacco, State Senator Julie Morrison (D – Deerfield) joined colleagues, advocates and health professionals today in support of a popular proposal to increase the age to legally purchase tobacco products in Illinois to 21.
"We have known about the dangers of tobacco use since the 1960s," Morrison said. "While that information is certainly not new, we continue to battle the problem of teens picking up a cigarette for the first time and smoking for the rest of their lives. Decreasing the rate of smoking starts with teens, as nearly 9 in 10 current smokers first tried tobacco by the age of 18."
Morrison's plan, contained in Senate Bill 2332, would make Illinois the sixth state to raise the age to buy tobacco to 21. Fourteen Illinois jurisdictions – including Highland Park, Deerfield, Buffalo Grove and unincorporated Lake County – have all adopted local Tobacco 21 ordinances.
A recently released statewide poll showed large support for a statewide Tobacco 21 law. Fako Research and Strategies, Inc., asked 601 adults 18 and older if they support increasing the age to legally buy tobacco. Sixty-four percent of those polled supported the idea, with 70 percent support in Chicago, 58 percent support in the Collar Counties and 68 percent support in Southern Illinois.
"The more we can limit the availability of tobacco for teens, the lower the chance they have of developing a lifetime habit that disproportionally affects the adolescent brain and costs state government billions of dollars annually," Morrison said.
"The State of Illinois spends nearly $2 billion every year treating Medicaid recipients with smoking-related diseases," said Kathy Drea, vice president of advocacy at the American Lung Association in Illinois. "Nonsmokers tend to think that smoking doesn't affect them, but the costs of smoking affect all of us. The Illinois General Assembly should do everything possible to reduce both youth and adult smoking prevalence rates to reduce health care costs related to tobacco use."
Category: Latest News