Published: 06 February 2018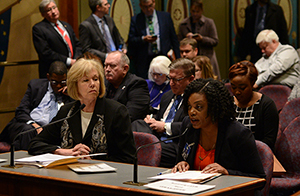 SPRINGFIELD – A proposal to increase the age to legally purchase tobacco products in Illinois to 21 passed the Senate Public Health Committee this afternoon. State Senator Julie Morrison (D-Deerfield) is sponsoring the plan and was joined by Highland Park High School Assistant Principal Dr. Steven Tucker, who testified in support of raising the age to purchase tobacco.
"From my lens, as a school leader and administrator, there is nothing more important that my deans have to deal with than the discreetness, the violation and the consequences for students who are using and abusing tobacco or tobacco-related products," said Dr. Steven Tucker, Assistant Principal at Highland Park High School.
Morrison's plan, contained in Senate Bill 2332, would make Illinois the sixth state to raise the age to buy tobacco to 21. Fourteen Illinois jurisdictions – including Highland Park, Deerfield, Buffalo Grove and unincorporated Lake County – have all adopted local Tobacco 21 ordinances.
Recent data shows wide support for the proposal among the public, with polling showing 64 percent of Illinoisans support raising the age to legally purchase tobacco. The poll also showed wide support among all geographic regions of the state, with 70 percent support in Chicago and 68 percent in Southern Illinois.
"Adults rarely pick up a cigarette for the first time," Morrison said. "Most current smokers first tried tobacco by the age of 18, making reducing access to tobacco for teenagers so important."
After raising the age to purchase tobacco to 21 in 2016, authorities in Chicago recorded a dramatic drop in the number of high schoolers who smoke, from 13.6 percent in 2011 to 6 percent in 2017. Raising the age was cited as a key component of the decrease.
Senate Bill 2332 passed the Senate Human Services Committee this afternoon on a 6-2 vote and will now head to the full Senate for further debate.
Click here for a fact sheet on Tobacco 21
Category: Latest News