Published: 21 February 2018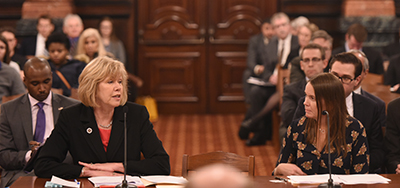 SPRINGFIELD - Suicides, gang conflicts and mass shootings similar to the South Florida school shooting last week account for approximately 30,000 firearm deaths in the United States every year.
In some cases, individuals displayed signs of dangerous behavior prior to a shooting that, if identified, could have thwarted tragedy. State Senator Julie Morrison (D – Deerfield) advanced a proposal today that would empower families and law enforcement to take steps to protect their loved ones and the general public.
"We know that family members and those close to an individual displaying threatening behavior can be the difference between life and death," Morrison said. "We need to ensure there are systems in place to respond to these calls for help and step in before a tragedy occurs."
Morrison's plan, called the Lethal Violence Order of Protection Act, allows a family member or a law enforcement officer to alert the courts that an individual poses a significant danger of personal injury to themselves or the public and has access to a firearm. If the court finds evidence to show the individual is a danger to themselves or another person, a judge can require that person to temporarily turn over any firearms in his or her possession.
"This proposal not only gives families the power to intervene when they see troubling behavior but it also protects the rights of individuals by ensuring due process in the court system," Morrison said.
Morrison's proposal is modeled after a similar law in California that allows a court to intervene if it is found likely that a person may in the near future cause personal injury by owning a firearm.
Senate Bill 559 passed the Senate Executive Committee today and now heads to the Senate floor for further debate.
Category: Latest News