Published: 28 February 2018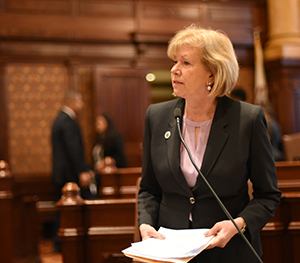 SPRINGFIELD – Family members concerned about dangerous behavior in a loved one with access to a firearm would be able to take action and potentially prevent tragedy under a measure passed today by the Senate and sponsored by State Senator Julie Morrison (D-Deerfield).
"Too often, family members of an individual displaying threatening or self-harm behavior do not know where to turn for help," Morrison said. "We cannot wait for Washington to act to stem the horrific toll of gun violence in our country. We need to ensure there are tools available in our court system to step in and respond before a tragedy occurs."
Morrison's proposal, called the Lethal Violence Order of Protection Act, empowers a close family member or law enforcement officer to alert the court system when an individual with access to a firearm is displaying threatening or unsafe behavior that could lead to injury to themselves or to the general public.
If the court finds sufficient evidence to show an individual is a danger to themselves or another person, a judge can require that person to temporarily turn over any firearms in his or her possession.
"From the killing of six people in Isla Vista, California in 2014 to the killing of 17 students and administrators in Parkland, Florida just two weeks ago, we have seen time and time again situations where dangerous behavior is reported and nothing happens," said Colleen Daley, Executive Director of the Illinois Council Against Handgun Violence (ICAHV). "This legislation will empower family members and law enforcement - often the first people to notice that a person is entering a mental health crisis or exhibiting violent behavior - to disarm a potentially dangerous individual."
The ICAHV estimates 80 percent of individuals considering suicide give some sign of their intentions while more than half of mass shooters in the last 20 years were reported as displaying signs of dangerous behavior prior to the killings.
Morrison's plan is modeled after a similar law in California that allows a court to intervene if it is found likely that a person may in the near future cause personal injury by owning a firearm.
Yesterday, Rhode Island's governor issued an executive order enhancing law enforcement's ability to remove firearms from people showing warning signs of dangerous behavior. Connecticut, Indiana and Washington also have passed laws to intervene when someone with access to a firearm exhibits erratic behavior.
"This plan not only gives families the power to intervene when they see troubling behavior but it also protects the rights of individuals by ensuring due process in the court system," Morrison said.
House Bill 772 passed the Senate today on a bipartisan vote and now heads to the House for a concurrence vote before being sent to the governor.
Category: Latest News