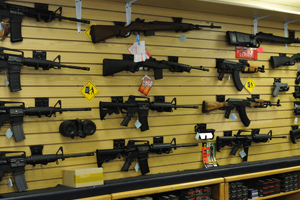 A bipartisan polling firm released data this morning showing widespread support among Illinoisans for licensing gun dealers.
"The data released today confirms what many of us have believed for a long time. Illinoisans are in strong support of increased oversight of gun dealers," said State Senator Julie Morrison (D-Deerfield).
While a plan requiring licensing of gun dealers passed the General Assembly with bipartisan support, Gov. Rauner vetoed the bill a few weeks ago. Morrison, a chief co-sponsor of that proposal, is hopeful the poll will increase momentum to override the governor's veto.
"We are so grateful for Senator Morrison's leadership on the Gun Dealer Licensing proposal, and her persistence and commitment to pass meaningful policy that will protect our children, families and communities from gun violence. She has been a champion since her first day in office," said Tom Vanden Berk, President of the Gun Violence Prevention Action Committee.
The poll, conducted over three days in late March, sampled Illinois residents throughout Northeastern Illinois and downstate. Overall, 71 percent of respondents favor state licensing of gun dealers with only 23 percent in opposition.
Support for the proposal was strong among downstate respondents (67 percent), West Suburban respondents (74 percent) and even among gun owners (63 percent).
"Licensing gun dealers is part of a comprehensive package of proposals we have been working on in Springfield to stem the nonstop toll of gun violence in our state," Morrison said. "Hopefully legislators who initially opposed this proposal will see the overwhelming support Senate Bill 1657 has among their constituents and will join us in overriding the governor's veto and making this bill law."
Category: Latest News