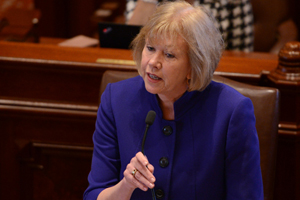 SPRINGFIELD – State Senator Julie Morrison (D-Deerfield) passed her plan to improve medical care for survivors of rape and sexual assault out of the Senate this afternoon.
"After survivors have endured one of the most traumatic experiences anyone can ever live through, it is vital hospitals and their staff are prepared to treat them with the utmost care," Morrison said. "No victim should ever feel re-traumatized by seeking medical attention. In order to heal and seek justice against their perpetrator, victims must receive top-notch care by trained and compassionate medical personnel."
House Bill 5245 is a package of reforms meant to expedite the overall medical care of sexual assault survivors. The proposal would ensure survivors of sexual assault receive prompt medical treatment within 90 minutes of arriving at a hospital and also that medical personnel are trained to perform rape kits and other examinations needed after a sexual assault.
Ensuring all rape kits and examinations are performed in a timely manner by trained medical professionals makes prosecuting offenders much more attainable.
Attorney General Lisa Madigan championed the proposal after increased attention has been drawn to the issue of untrained medical professionals treating survivors of sexual assault.
"Providing specialized medical care to survivors is known to help them heal, increase their willingness to pursue justice and increase the number of successful prosecutions against offenders," Attorney General Lisa Madigan said. "We must do better for the thousands of women, children and men in Illinois who are victims of sexual assault every year."
House Bill 5245 passed the Senate today without opposition and will now head to the House for a concurrence vote before being sent to the governor.
Category: Latest News