Published: Thursday, June 09, 2016 04:31 PM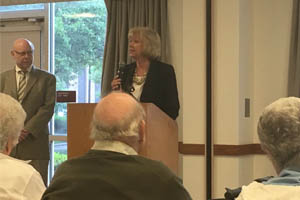 DEERFIELD – State Senator Julie Morrison (D – Deerfield) was joined by numerous human services providers, seniors benefiting from the Community Care Program and other governmental officials at the Weinberg Community for Senior Living in Deerfield this afternoon in calling for the governor to sign Senate Bill 2038, a bill on the governor's desk that would provide more than $700 million to Illinois' human services providers.
"Our human services providers have been stretched thin and they need relief now," Morrison said. "I urge the governor to sign Senate Bill 2038 to get some money flowing to our providers."
Senate Bill 2038, which passed the Illinois House and Senate on May 12 and was sent to the governor on May 18, was passed to provide stopgap funding for providers that weren't covered under court orders mandating state payments.
Services for children with autism, adults with developmental disabilities and victims of sexual assault and abuse are just a few of the many programs that would be covered under Senate Bill 2038.
Funding contained in the bill is currently sitting in state bank accounts but cannot be spent without authority, something Senate Bill 2038 would provide.
"I remain hopeful a bipartisan solution can be made between the governor and the General Assembly regarding next year's budget before the end of the month. And I stand ready to work with the governor to make that a reality," Morrison said. "We can provide instant relief today, however, to the countless human service providers who are taking care of our most vulnerable and not getting paid. We cannot afford to wait another day."
Category: Latest News