Published: Tuesday, December 13, 2016 04:09 PM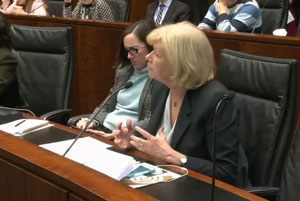 SPRINGFIELD – State Senator Julie Morrison (D – Deerfield), vice-chairwoman of the Senate Human Services Committee, questioned leaders with the Department of Human Services (DHS) today over the recent Chicago Tribune investigative report highlighting improperly handled cases of abuse and neglect at group homes across the state.
The series, titled 'Suffering in Secret,' found allegations of abuse cover-ups and a complete lack of transparency that left the public and family members of abused group home residents in the dark.
"I am very disturbed by reports of abuse and neglect of some of our most vulnerable residents," Morrison said. "It is the state's responsibility to ensure there is sufficient oversight of these centers and that policies exist to effectively prevent and respond to the very serious allegations in this report. It is more than obvious the state failed these vulnerable residents."
Morrison urged the department to better work with the General Assembly on developing polices that expand oversight, increasing pay for direct support personnel and ensuring abuse allegations are not ignored.
"While the reports of abuse we have heard about today and in the investigative series are gruesome and heart wrenching, we have an opportunity to work together and ensure this kind of thing never happens again."
Category: Latest News