Published: Friday, February 03, 2017 10:53 AM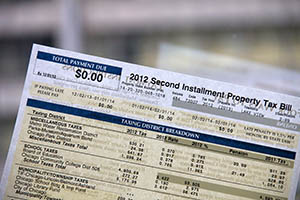 SPRINGFIELD – For many suburban homeowners and commercial property owners, rising property taxes are putting added financial pressure on already burdened families.
"Throughout the district, rising property taxes continue to be one of the biggest concerns I hear from area residents," State Senator Julie Morrison (D – Deerfield) said.
Last week, Morrison filed Senate Bill 686 that would cap increases in annual property assessments to 20 percent.
"Last fall, I had several constituents reach out to me with stories of dramatic property assessment increases in just one year," Morrison said. "For some homeowners, their values had jumped 30 and 40 percent without any justifiable reason for the sharp increase. This volatility year after year needs to stop."
Morrison has also introduced a plan that freezes a property's value when an appeal has been pending before the Property Tax Appeal Board for more than two years. Appeals can potentially take longer than two years given the complexity of the process. Morrison hopes her plan contained in Senate Bill 609 will encourage more timely resolutions of appeals for homeowners.
"The property tax appeal process is a burden for many homeowners, as they are forced to appeal every year and wait sometimes many years for a decision," Morrison said. "Homeowners should not have to appeal their property taxes every year."
Both of Morrison's proposals were introduced in the Senate late last week.
Category: Latest News