Published: Friday, January 20, 2017 11:14 AM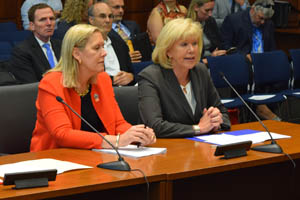 SPRINGFIELD – State Senator Julie Morrison (D – Deerfield) has been named chairperson of the Senate Human Services Committee.
"The state plays a tremendous role in ensuring the well-being of adults with disabilities, abused or neglected children and other vulnerable populations," Morrison said. "I am eager to begin my new role and continue working on policies that encourage an efficient state government that is receptive to the needs of our residents."
Since taking office, Morrison has passed a number of laws aimed at reforming the troubled Department of Children and Family Services agency after years of revolving leadership and troubling media reports. Morrison has also publicly questioned state bureaucrats after reports of abuse within group homes for adults with disabilities and fought to ensure Illinois' extensive human services network received funding during the continued budget impasse.
Morrison was sworn in to the 100th General Assembly last week and in her first official act passed a resolution which places term limits on the senate president and senate minority leader. The plan went into effect immediately and did not need the governor's signature.
"It is my hope that as we start this new General Assembly, we are able to come together as a body and confront head on the challenges facing this state," Morrison said.
Category: Latest News