Published: 23 August 2016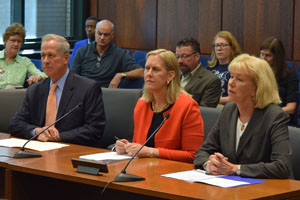 CHICAGO – Advocates in support of restoring the ability of Illinois municipalities to ban assault weapons testified in favor of a proposal introduced by State Senator Julie Morrison (D-Deerfield) at a Senate committee this morning in Chicago.
"Military-style weapons, designed for war and not for sport, have no use on our streets and in our neighborhoods," Mark Walsh with the Illinois Council Against Handgun Violence said.
Morrison's proposal, contained in Senate Bill 2130, restores Illinois municipalities' right to ban assault weapons and high-capacity magazines. Current Illinois law prohibits municipalities from enacting assault weapon bans. The practice was legal until 2013, when the controversial law allowing Illinois residents to carry concealed weapons was passed.
Category: Latest News