Published: 07 October 2019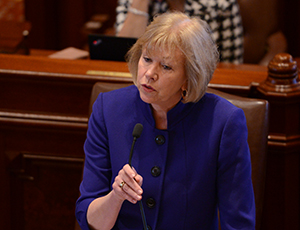 SPRINGFIELD – Flavored tobacco products – intentionally being targeted to children with candy-like names – would no longer be sold in Illinois under a plan introduced recently by State Senator Julie Morrison (D-Deerfield).
"In all of their forms, tobacco products are dangerous to human health and can lead to serious, life-long health consequences," Morrison said. "The creation of sugary flavorings only entices young children to try tobacco for the first time and threatens the progress we have made over the last several decades in reducing tobacco use among young people."
Morrison's proposal – contained in Senate Bill 2275 – would prohibit the sale of flavored tobacco products, including cigarettes, e-cigarettes and chewing tobacco. Morrison introduced the proposal on the heels of recent action by Michigan Gov. Gretchen Whitmer banning flavored e-cigarettes.
Category: Latest News