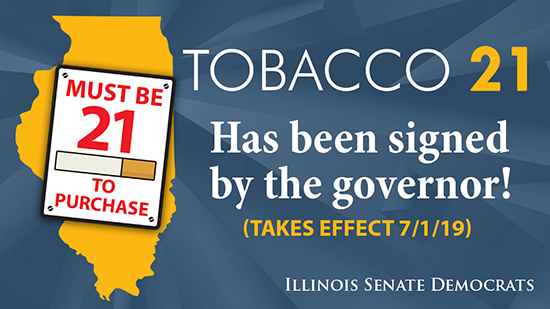 SPRINGFIELD – Legislation increasing the age to legally purchase tobacco to 21 was signed into law on Sunday by Gov. JB Pritzker at a signing ceremony at Mile Square Health Center in Chicago. State Senator Julie Morrison (D-Deerfield) sponsored the legislation and was in attendance of the signing.
"Today represents the culmination of years of dedication and hard work from health advocates and lawmakers who were relentless in their fight to protect teen health," Morrison said. "Raising the age has been proven to reduce smoking rates among young teenagers who are susceptible to the impact of nicotine on the brain and have a strong chance of beginning a lifelong deadly habit."
The new law, which passed under House Bill 345, adds Illinois to a growing list of states that have already implemented Tobacco 21. Nine states – Arkansas, California, New Jersey, Massachusetts, Oregon, Hawaii, Maine, Utah and Virginia – have all raised the age to purchase tobacco to 21.
Category: Latest News