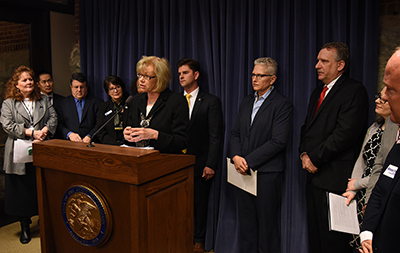 SPRINGFIELD – State Senator Julie Morrison (D-Deerfield) presented her proposal to reform Illinois' redistricting process to a Senate subcommittee this afternoon in Springfield. Earlier in the day, Morrison joined with her colleagues and reform advocates at a press conference to discuss the importance of changing the way Illinois draws district boundary lines.
"For too long, politicians have been in charge of redistricting in Illinois, splitting up communities and injecting politics into an issue that should be free from partisan influence," Morrison said. "There is a better way to redraw district boundary lines, and I believe an independent commission with strict guidelines and transparent motives would best serve the diverse population who call Illinois home."
Morrison has introduced Senate Joint Resolution Constitutional Amendment 26, which would establish a 16-member independent commission that would be in charge of redistricting Congressional districts as well as State House and Senate districts in Illinois.
Category: Latest News