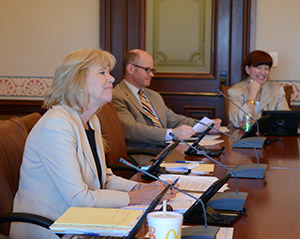 SPRINGFIELD – State Senator Julie Morrison (D – Deerfield) met with new Acting Director of the Department of Children and Family Services Beverly Walker this afternoon during a hearing of the Senate Human Services Committee.
"Today's hearing gave members of the Senate the opportunity to learn about Director Walker's background and her ideas for bringing lasting change to DCFS," Morrison said. "As seen by today's high level of interest from Senators on both sides of the aisle, the Senate is committed to working with Acting Director Walker to address the monumental challenges facing this troubled agency."
On Friday, Walker was named acting director of DCFS by Governor Rauner. Earlier this month, former Director George Sheldon resigned amid a series of high-profile failures at the troubled state agency.
Category: Latest News