Published: 21 August 2017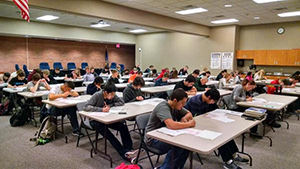 SPRINGFIELD – A proposal by State Senator Julie Morrison (D – Deerfield) to no longer require SAT scores automatically be entered on a student's transcript was signed into law over the weekend by the governor.
"For many students, the stress of taking a college entrance exam can be overwhelming and affect a score outcome," Morrison said. "For students who may wish to retake a SAT exam, it's important they have the flexibility to get their best results published in their transcript."
The new law, which was contained in Senate Bill 757, eliminates the state requirement that SAT scores be automatically included in a student's official transcript. The law allows school districts to determine whether to enter SAT scores on student transcripts automatically, at the request of parents or not at all.
Senate Bill 757 passed the Senate without opposition on May 3 and takes effect immediately.
Category: Latest News