Published: 10 August 2017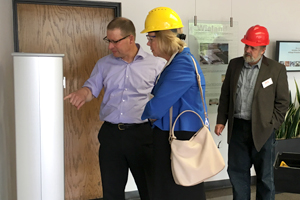 SPRINGFIELD – State Senator Julie Morrison (D – Deerfield) joined Wheeling Village President Patrick Horcher earlier this week in touring three Wheeling manufacturing facilities.
"Manufacturing is a major industry in the area, with hundreds of local residents working in the field," Morrison said. "As a state legislator, I believe it's important to talk to local employers and make sure the state is doing everything possible to attract and retain good businesses like these."
Morrison toured Creation Technologies, Wieland Metals and Argon Medical Devices. Together, the companies employ more than 500 individuals at their Wheeling facilities.
Category: News