Published: 07 November 2017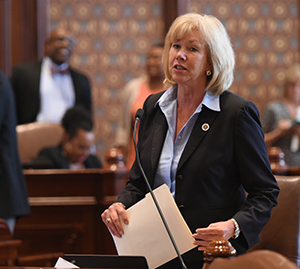 SPRINGFIELD - State Senator Julie Morrison (D – Deerfield) released the following statement this afternoon after supporting three proposals aimed at addressing sexual harassment in Springfield:
"Today's action by the General Assembly represents an important first step in addressing the serious issue of sexual harassment in Illinois politics. Our laws and policies should be crafted to give a voice to victims. Unfortunately, both our laws and the culture in Springfield denied justice to victims. While today represents progress, we must continue the discussion on how to end sexual harassment in our state."
The Senate passed three provisions today, including:
Senate Bill 402 that will address a current gap in state law that limits the Legislative Ethics Commission from making a ruling on a sexual harassment complaint or imposing penalties against state officials, including members of the legislature;
House Bill 137 that will allow the newly-appointed Legislative Inspector General to investigate formal complaints past the current one-year limitation;
House Joint Resolution 83 that publicly acknowledges the issue of sexual harassment in Illinois politics and urges a change in the culture that allows such behavior; and
Senate Resolution 1076 that creates a task force that will examine legislative changes to maximize protections for those victimized by sexual discrimination and harassment.
All four proposals passed the General Assembly this afternoon.
Category: Latest News