Published: Thursday, June 30, 2016 11:09 AM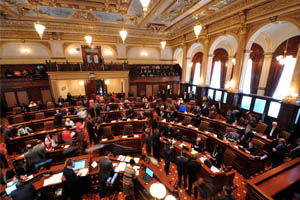 SPRINGFIELD – More than $2 billion in ongoing construction projects will continue under a plan that passed the Senate today and co-sponsored by State Senator Julie Morrison (D – Deerfield).
"Today's vote guarantees a number of vital construction projects across the state continue as planned," Morrison said. "Locally, the reconstruction of Deerfield Road between Highland Park and Deerfield was facing the potential of ceasing construction as early as tomorrow, which would have caused increased traffic delays and the potential for safety concerns for motorists."
Deerfield Road is currently in the middle of an $18.1 million resurfacing and reconstruction project between the Metra viaduct in Deerfield and U.S. Route 41 in Highland Park. While the 2.39-mile long reconstruction project is largely paid for with federal funds, the state was facing the prospect of not being able to legally appropriate federal funds due to the lack of a finalized budget plan for Fiscal Year 2017, which begins tomorrow.
Category: Latest News