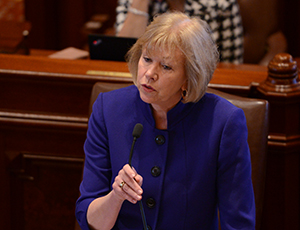 SPRINGFIELD - State Senator Julie Morrison (D-Deerfield) led the Senate this morning in passing several proposals aimed at preventing gun violence and mass shootings. Morrison's first proposal would increase the waiting period to purchase an assault weapon in Illinois from 24 to 72 hours.
"Increasing the waiting period to obtain an assault weapon ensures sufficient time to complete a background check and increases the 'cooling off' period for those who may cause harm to others," said Morrison. "Requiring a 72-hour waiting period is a commonsense reform that will help keep our neighborhoods safe."
Current Illinois law requires a 72-hour waiting period to obtain a handgun after purchase. Assault weapons, including the AR-15 and other military-style weapons, are only subject to a 24-hour waiting period.
Category: Latest News