Published: 28 February 2018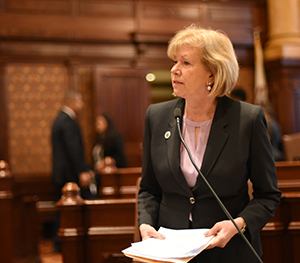 SPRINGFIELD – Family members concerned about dangerous behavior in a loved one with access to a firearm would be able to take action and potentially prevent tragedy under a measure passed today by the Senate and sponsored by State Senator Julie Morrison (D-Deerfield).
"Too often, family members of an individual displaying threatening or self-harm behavior do not know where to turn for help," Morrison said. "We cannot wait for Washington to act to stem the horrific toll of gun violence in our country. We need to ensure there are tools available in our court system to step in and respond before a tragedy occurs."
Morrison's proposal, called the Lethal Violence Order of Protection Act, empowers a close family member or law enforcement officer to alert the court system when an individual with access to a firearm is displaying threatening or unsafe behavior that could lead to injury to themselves or to the general public.
Category: Latest News