Published: Monday, August 14, 2017 02:59 PM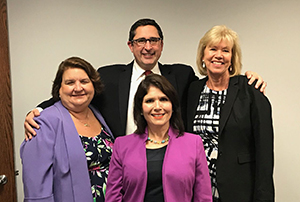 SPRINGFIELD – Two proposals championed by State Senator Julie Morrison (D – Deerfield) that would eliminate restrictions on township consolidation efforts were signed into law today by the governor.
"Illinois has the unfortunate distinction of having the most units of local government of any state in the country," Morrison said. "With the signing of these new laws, we are acknowledging that local government best operates when given the flexibility to increase efficiencies to taxpayers."
Both new laws, contained in Senate Bill 3 and House Bill 607, seek to ensure local government consolidation efforts are not stymied by outdated state restrictions.
Category: Latest News