Published: 30 October 2013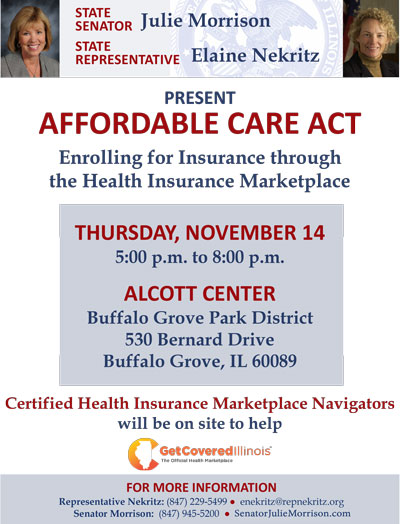 DEERFIELD – State Senator Julie Morrison (D-Deerfield) and State Representative Elaine Nekritz (D-Northbrook) invite area residents to attend an Affordable Care Act enrollment and information session on Thursday, November 14. Certified Health Insurance Marketplace Navigators will be on hand to assist with enrollment and a representative from the Illinois Health Insurance Marketplace will provide information and answer questions about the federal Affordable Care Act.
The event will take place at the Alcott Center of the Buffalo Grove Park District, 530 Bernard Drive,
Buffalo Grove, IL 60089, from 5:00-8:00 p.m.
"The Affordable Care Act includes a mandate for most individuals to have health insurance or potentially pay a penalty for noncompliance. People in my legislative district are concerned about how the implementation of the ACA will affect them and their businesses. I felt it was necessary to provide them an opportunity to speak directly with experts," said Morrison.
Nekritz added, "Many residents have special circumstances and are not sure how to answer the questions on the 'Get Covered Illinois' website. Those in attendance will be able to work one-on-one with a certified Health Insurance Marketplace navigator to make sure they get the proper information."
To RSVP or for more information contact Representative Nekritz at 847-229-5499 or This email address is being protected from spambots. You need JavaScript enabled to view it., or Senator Morrison at 847-945-5200 or email via her website, www.SenatorJulieMorrison.com.
Category: Latest News