"Flying orange flags is a simple way to warn other boaters that you're towing a water skier or inner tuber. Creating greater awareness could help save lives." - State Senator Julie Morrison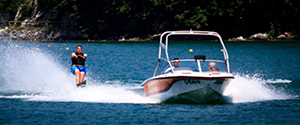 SPRINGFIELD – After a series of hearings last year, State Senator Julie Morrison (D-Deerfield) found a water-safety plan everyone can agree on: requiring boats that are towing water-skiers, tubers and other people to fly orange flags.
Several other states, including Illinois' neighboring state of Missouri, already have similar laws.
"Flying orange flags is a simple way to warn other boaters that you're towing a water skier or inner tuber," Morrison said. "Creating greater awareness could help save lives."
Category: Latest News